Modem unlocker
You may have been frustrated after several attempts to unlock your new Huawei modem probably because generating the unlock code using IMEI doesn't seem to work for you like it used to. Well, the newer versions of Huawei modems like E303 and E173 doesn't seem to respond to that old trick any more. It also doesn't show you where to put the unlock code for your E173 modem when you insert SIM from other network provider. I also had the same experience and made several attempts too, but all to no avail. Suddenly, I had a brain wave and decided to try the popular DC-unlocker .And guess what? Voila!!! it finally got unlocked.
You can
Download the latest version here
. Follow this easy tutorial on how to unlock stubborn Huawei and Zte to enjoy a wonderful browsing experience with any network of your choice.
The first you should know is that you need some amount of credit on your DC- unlocker to unlock your device. Don't be carried away by that crappy stuff regarded as a cracked version of DC-unlocker. You must buy sufficient credit before you can unlock any stubborn modem. The credit varies depending on the device you want to unlock. You can check out the price list from
this link
For Huawei E303, it's only 4 credits while E173 requires 7 credits.
Step 1:
Now, let me assume you have sufficient credits to your account. Click here - Connect your modem and run the software. Be sure you close the default dashboard software for your modem.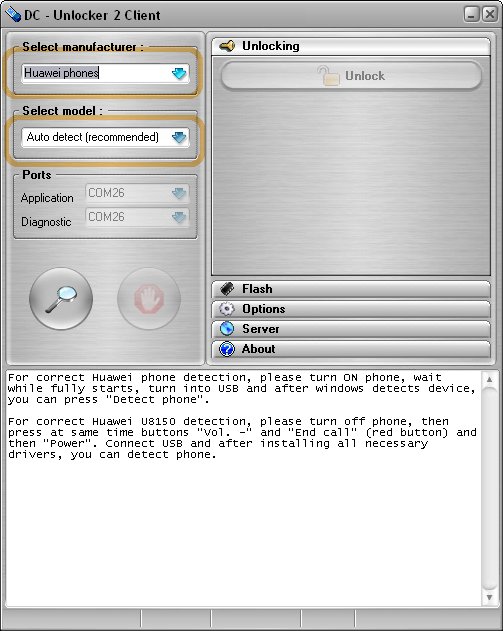 - Quickly Select your device manufacturer (e.g Huawei or Zte) from the drop-down menu and find your device model from the 'select model' section- Or you can click on the magnifying glass icon to enable the DC-unlocker software to automatically search and detect your device.- It normally takes few second for the software to detect your modem automatically. See the photo below to learn more
Step 2: Now switch over to the right pane of the unlocker and click on Server and fill out the "login options" text box. Fill it with your username and password, click on check login. Dc-unlocker user name and password is created upon purchase of sufficient credit. You can do that with your PayPal account or via credit card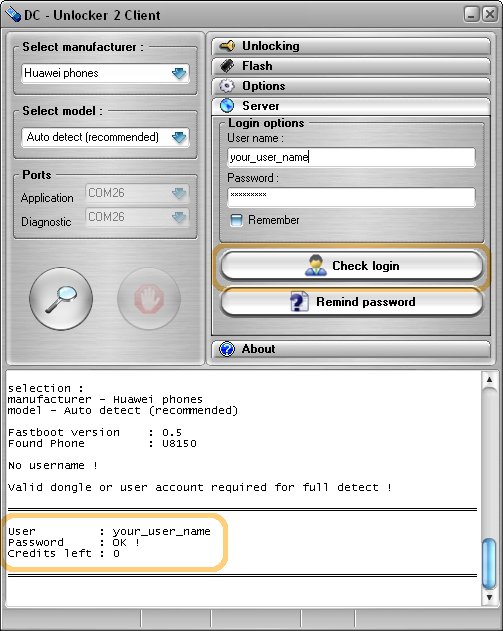 Step3:
Hit the "Do job" button and enjoy unrestricted SIM usage on your Zte and Huawei modem You can check out the photo below to see a proof that your stubborn Huawei modem has been unlocked successfully (It works for Zte also)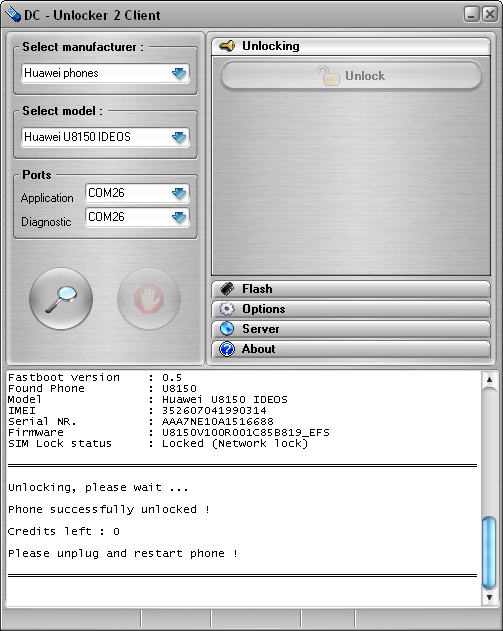 Note: You much have a sufficient balance or credit before you can successfully unlock your modem You can just drop a 'thank you' comment, after unlocking your modem with these 3 easy steps above. You can check
this link
to see list of
D-unlocker distributors in your country or near your locality.
This tutorial will help you unlock the following model of modem: ZTE MF190 (Telma Madagascar), ZTE MF633, Huawei E177 (Zain Sudan,Huawei E153 (MTN Sudan),Huawei E173 (Safaricom Kenya), Huawei E303 (Sudani Sudan), Huawei E173 (Airtel Nigeria), Huawei E3231 HiLink, Huawei SoftBank 005HW, Huawei SoftBank AP01HW,Huwei E1750, Huawei E153u1 (Etisalat Egypt), Huawei E153 (Philippines SmartBro), ZTE MF627 (Philippines)